How the Grinch was Remade
11:37 AM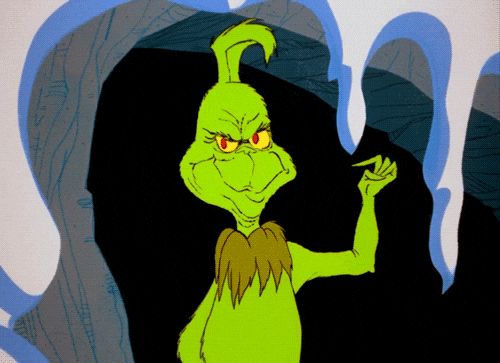 Wow, we're already here, it's almost the end of the year.
The year flew by fast, boy oh boy, 'twas a blast.
For today's article, I'm talking about someone who's mean,
Alright, enough with the rhymes, but, hey, we're in December, and that means I'm going to talk about Christmas films. One of my favorite cheesy holiday films is the 2000 remake of the classic film How The Grinch Stole Christmas. Being closely related to the 1966 animated movie of the same name, How The Grinch Stole Christmas keeps the plotline intact-- but, this time, it's in live action. The Grinch is played by the unforgettable Jim Carrey, who brings the character absurd, yet charming gags.
What I loved in this movie was attention to the practical. The set design was really true to the style of Seuss' original illustrations. The architecture of the Whoville set-- which is housed in the Universal Studios backlot-- makes you feel like you're really there.
There's also this moment that was filmed completely practically:
It was more efficient to just film a scene where lights were strung by a cannon… but in reverse. I appreciate the cleverness of their contraption, which is seen above.
The makeup on the Whos, along with the Grinch, was apparently very time-consuming. Multiple sources say that Jim Carrey was in costume for a total of 92 days overall, though I cannot find these sources.
There's also a remake that came out this year simply titled The Grinch where the titular character is voiced by Benderstick Cucumber (Bubblegum Cabbagepatch). The film is all CG, and was produced by Illumination (makers of Despicable Me). I also enjoyed the EP created by Tyler, The Creator, made in conjunction with the film's release.


In this film, they transformed his personality into one of the modern uninterested mid-20s American edgelord-- in one scene, he comes down to go grocery shopping with the Whos. Because I haven't seen this film yet, I'm keeping this part relatively short as I've only heard things about the film.
Pretty much everything was overall mediocre with this film to critic and audience standards, as it has a 57% on Rotten Tomatoes.
I have no problem with a lot of the story changes or design changes, but I just believe that they deviated from some of his "mean" traits too much.
Thanks for reading, y'all. My next article's gonna be on the 25th! It's gonna be pretty special to me, so I'm excited to share it with you then!